Google-Referenzen
Basierend auf 40 Rezensionen
Testimonials über meine Arbeit als Traurednerin habe ich gemeinsam mit diesen Fotos gesammelt. Referenzen hole ich gerne ein, vor allem von den Gästen im Video, da das Brautpaar direkt nach der Trauung aus den Umarmungen nicht loszubekommen ist.
Testimonials: freie Trauung mit Ingrid von freiheiraten
"Ingrid hat unsere Zeremonie herzergreifend gestaltet. Im Vorgespräch haben wir uns als Paar noch besser kennengelernt."

"Vielen Dank für die wundervolle Trauung und das kleine englische Extra!"

"Our guests were crying due to the emotions Ingrid brought out with her speech."

"Du hast unsere Erwartungen übertroffen. Unsere Gäste haben die geasamte Feier über von der Zeremonie gesprochen."

"Wir sind echt froh, dass wir dich für unsere Trauung hatten!"

"Viele von unseren Gästen haben gesagt: das war die schönste Trauung, die sie je erlebt haben."

"Wir sind begeistert! Die freie Trauung war definitiv das Highlight unserer Hochzeit – auch für unsere Hochzeitsgäste."

"Wir möchten uns wirklich herzlich für die schönste Traurede, die wir jemals gehört haben bedanken! Alle werden sich lange daran erinnern."

"Ihre Rede war sehr einfühlsam, humorvoll und sorgfältig ausgearbeitet. Es hat uns sehr gefallen."

"Mit dir wurde unsere Hochzeit entspannt, fröhlich und unglaublich gefühlvoll."

"Die Entscheidung für eine freie Trauzeremonie war genau das Richtige. Diese Momente kann uns niemand nehmen."

"Die Rede hat unsere Liebesstory auf den Punkt gebracht und sie hat in uns wieder Erinnerungen, Bilder und Glücksmomente hervorgerufen."

"Du hast unsere gemeinsame Geschichte vom ersten Kennenlernen bis hin zum Tag der Trauung in deinen ganz eigenen Worten perfekt wiedergeben."
Noch mehr Fotos, was die besten Referenzen sind, gibt's in der Galerie.
Das sagen meine Kunden
Schaut auch gerne auf Facebook vorbei, was andere Kunden sagen!
Während der Trauung wird in die Taschentücher trompetet was das Zeug hält, aber spätestens mit dem Auszug heißt es: Celebrate Yourself! Es darf gelöst gelacht werden, es dürfen Gläser umgeworfen und Freundlichkeiten ausgetauscht werden. Und dann komme ich und bitte um eine Bewertung der freien Trauung!
Meldet euch bei mir, wenn ich auch eure Hochzeit bereichern darf. Diese Gesichter sind die besten Referenzen für eure freie Trauung!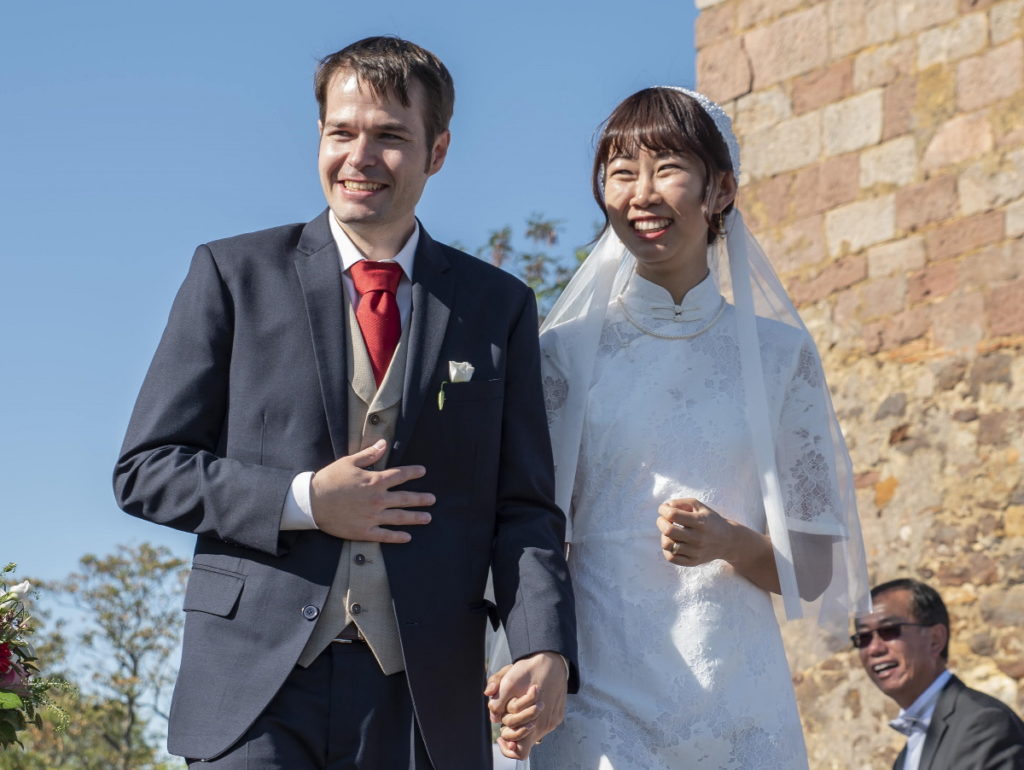 Hochzeit mit Hindernissen: Was tun, wenn es mal nicht so läuft?
Die Antwort ist so klar wie der Schnaps im Glas des Bräutigams: ihr braucht eine entspannte, lockere und witzige Traurednerin! Die Gäste liefern hinterher Testimonials!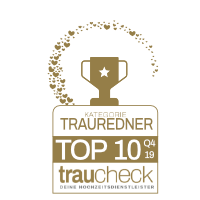 Wie könnt ihr mich buchen? Hier geht's zum Ablauf und zum Angebot.
Home Über mich Freie Trauung − Real weddings Blog&News Kontakt